Alex's Mobs Mod 1.16.5/1.16.4 is a Forge mod including 31 new mobs sorted into different categories. Get the newest release and mine all of their unique functions!
Alex's Mobs
It is a mod that requires Citadel 1.6.0 or later for versions from 1.16.3-1.16.5.
Aside from realistic creatures, you can see fictional ones such as Bone Serpent, Endergade, etc.
Summary
Each of them must finish an essential purpose, owns distinctive drops with mechanics, so on. Drops are useful to craft weapons, arrows, potions, or armors containing effects.
They make a few environments full of life.
Models, textures, animations with AI will connect to the vanilla game.
Don't provoke them or you can get into trouble!
Remember to read the Animal dictionary to master how to interact with them or what they leave!
List of mobs existing releases:
Blobfish
Bone Serpent
Capuchin Monkey
Cave Centipede
Cockroach
Crimson Mosquito
Crocodile
Crow
Elephant
Endergrade
Fly
Gazelle
Gorilla
Grizzly Bear
Hammerhead Shark
Hummingbird
Komodo Dragon
Lobster
Mimicube
Moose
Orca
Raccoon
Rattlesnake
Roadrunner
Seal
Shoebill
Snow Leopard
Soul Vulture
Spectre
Sunbird
Warped Toad
Alex's Mobs is also an interesting farming mod or helpful for transporting the player. Let's download and install Minecraft Forge to start to meet them!
Screenshots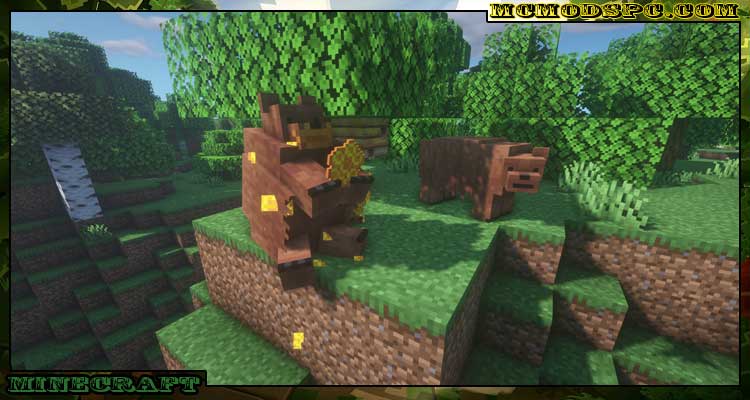 Instructions on installing Alex's Mobs Mod
Minecraft Forge must be installed in advance.
On your computer, you start finding the Minecraft application folder. There are two ways to find the application, depending on the OS you are using:

For Windows PC, from the Start menu, you start "Run" then type like this: "%appdata%". Select "Run" when everything is done.
For Mac, you launch finder and press down ALT. Then, you select Go and choose Library displayed in the top menu bar. Next, you will access the Application Support folder where you will find Minecraft.

You put the downloaded Alex's Mobs Mod into the Mods folder.
Start to open the game then select the mods button. This is when you know the Alex's Mobs Mod is already installed.