Nether Soups Mod 1.16.5 aims to enhance your vanilla experience and make it more varied. It brings two types of soups in the Nether for you to explore.
Soup is a type of food that is necessary to have in Minecraft. With a Food mod above, you can now enjoy some soups when you play in the Nether. The purpose of the mod is to make the vanilla more varied. Hence, it will bring you a unique experience. There are two types of soups added by the mod. By eating them, you will have different benefits.
Types of soups available to use in the mod:
Crimson soup: When you eat this soup, it restores 7 hunger points for you. It also gives you a fire resistance that lasts for 9 seconds. Not only that, but it also allows you to burn yourself with it. After that, you will obtain a 3-second afterburn.
Warped soup: This type of soup recovers 7 hunger points for you. You will get 9-second resistance as well as 1 damage point.
If you want to make the crimson soup, you must prepare these items:
Two crimson fungus
A bowl
For making the warped soup, you also prepare:
You can add Nether Soups to any modpacks. But, if you want it to run in the game, you have to install Minecraft Forge.
Screenshots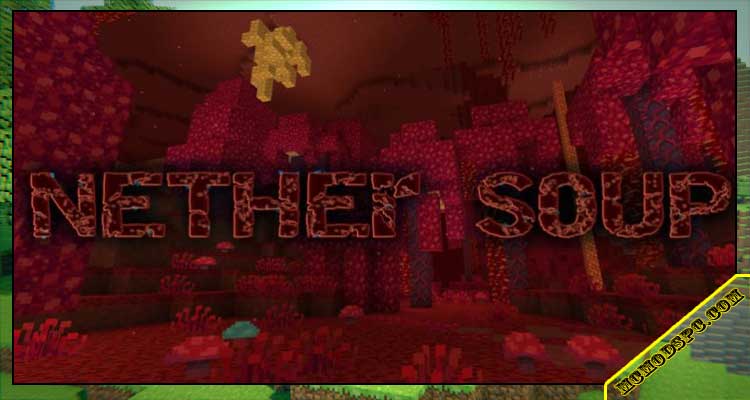 Instructions on installing Nether Soups Mod
Minecraft Forge must be installed in advance.
On your computer, you start finding the Minecraft application folder. There are two ways to find the application, depending on the OS you are using:

For Windows PC, from the Start menu, you start "Run" then type like this: "%appdata%". Select "Run" when everything is done.
For Mac, you launch finder and press down ALT. Then, you select Go and choose Library displayed in the top menu bar. Next, you will access the Application Support folder where you will find Minecraft.

You put the downloaded Nether Soups Mod into the Mods folder.
Start to open the game then select the mods button. This is when you know the Nether Soups Mod is already installed.
Nether Soups Mod Download Links