"To the Bat Poles!" Mod 1.16.5/1.15.2/1.12.2 is a Cosmetic mod that generates a ride out of various iron bars. This ride is one-way only.
The Player Transport aspect in Minecraft is being more upgraded over time. Therefore, players will have lots of choices when it comes to means of transport. With the aforementioned mod installed, you can easily get out of the iron bars using a one-way ride created by it.
To that goal, you must make a pole. The materials for making that pole are several iron bars. You have to pile them up on top of each other for making a pole with a length you have chosen. Besides, you need to ensure that you can reach the top of the pole when you jump at it. You can turn the poles into your design tool for getting a one-way ride out of the dungeon.
Here is what the mod features: (for version 2.0)
You can create poles using lots of materials such as gold, diamond, iron, and obsidian.
You can even craft poles from fences or glass panels.
With Redstone poles, you will be taken up when you power them.
You just simply stack the pole from the ground to build it easily.
With upgraded controls, you can climb and spin or even take a jump from the pole.
If you put torches on the pole's top then lift them up, you can sign the points of interest.
All customizations for features can be done through the config files of the mod. To run "To the Bat Poles!" in the game, you have to install Minecraft Forge and ForgeEndertech library.
Screenshots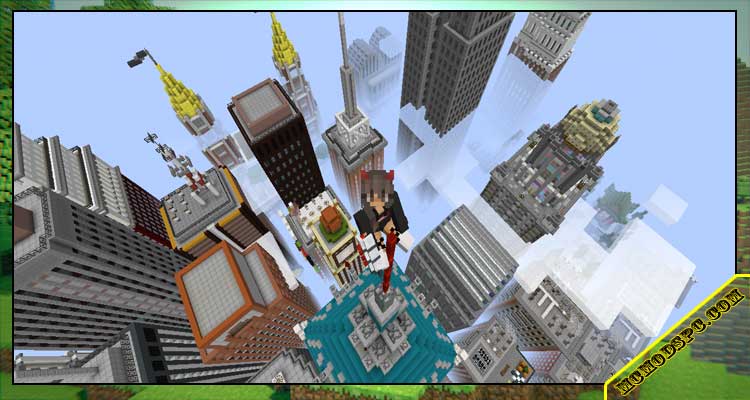 Instructions on installing "To the Bat Poles!" Mod
Minecraft Forge must be installed in advance.
On your computer, you start finding the Minecraft application folder. There are two ways to find the application, depending on the OS you are using:

For Windows PC, from the Start menu, you start "Run" then type like this: "%appdata%". Select "Run" when everything is done.
For Mac, you launch finder and press down ALT. Then, you select Go and choose Library displayed in the top menu bar. Next, you will access the Application Support folder where you will find Minecraft.

You put the downloaded "To the Bat Poles!" Mod into the Mods folder.
Start to open the game then select the mods button. This is when you know the "To the Bat Poles!" Mod is already installed.