Animania Cats & Dogs Mod 1.12.2 adds various types of animals as well as blocks. The new content will renew your gameplay experience.
The purpose of the Mobs mod above is to introduce a wide range of loyal pets to Minecraft. They are mostly dogs and cats with cute appearances. The new pets can help you in lots of missions, so you need to treat them and take care of them well. You can go with your pets to vanquish sea or land adventures.
The new animals come in various forms. Also, their looks are quite different. Here are the dogs and cats you can play with in the game:
Dogs: You utilize raw beef to tame the dogs. Then, they will follow you like a loyal companion. You cannot find dogs in the world. Instead, you have to purchase them from the Pet Merchant. The dog types are:
Bloodhound
Chihuahua
Collie
Husky
Labrador
Pomeranian
German Shepherd
Great Dane
Greyhound
Corgi
Dachshund
Poodle
Pug
Cats: You can tame cats using raw fish. Also, you must purchase them from the Pet Merchant because they don't appear in the world.
Ragdoll
American Shorthair
Asiatic
Exotic
Norwegian
Siamese
Tabby
The mod also features some Canids like Foxes and Wolves, together with some Felids like Ocelot. Not only that, but you can also approach some new blocks such as Pet Bowl, Animal Beds, and Decoration Blocks.
For the function of Animania Cats & Dogs, it must have:
Minecraft Forge
Animania Mod
CraftStudio API
Screenshots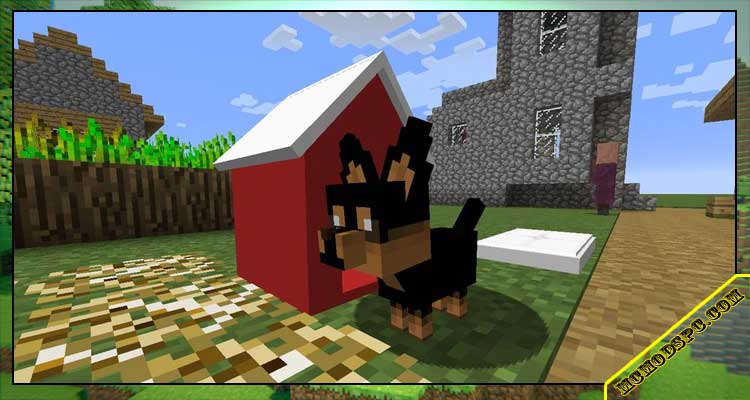 Instructions on installing Animania Cats & Dogs Mod
Minecraft Forge must be installed in advance.
On your computer, you start finding the Minecraft application folder. There are two ways to find the application, depending on the OS you are using:

For Windows PC, from the Start menu, you start "Run" then type like this: "%appdata%". Select "Run" when everything is done.
For Mac, you launch finder and press down ALT. Then, you select Go and choose Library displayed in the top menu bar. Next, you will access the Application Support folder where you will find Minecraft.

You put the downloaded Animania Cats & Dogs Mod into the Mods folder.
Start to open the game then select the mods button. This is when you know the Animania Cats & Dogs Mod is already installed.
Animania Cats & Dogs Mod Download Links