Chisel Decor Mod 1.16.5 for Fabric aims to help custom block packs work much better. You will find it easy to load custom blockpacks.
This is a Fabric edition of the Chisel mod that you are recommended to try. It gives nothing but just support for some block packs that are customizable. Thanks to the support, loading custom blockpacks is much easier now. The primary block pack includes the blocks from some former editions of the chisel mod. Since no blockpacks are already installed, you must install them in a manual way if you want them to be in the game.
Here is a guide on how to use the Chisel:
If you want to approach the new blocks that are brought by Chisel Decor, you are required to make a Chisel first.
Then, you click the right mouse with the Chisel you chose in the hotbar to approach the Chisel GUI. After that, you can put some blocks in the top left-hand corner with a big slot. Then, they will be turned into any blocks that are on the right-hand side.
This Cosmetic mod also gives support to some connected textures. You can turn them on by applying the Connected Block Textures mod to the game. Not only that, but the mod also can be used with Roughly Enough Items (REI) – the mod that gives you recipes.
To ensure that Chisel Decor functions in the game, you have to install Fabric Modloader and Fabric API.
Screenshots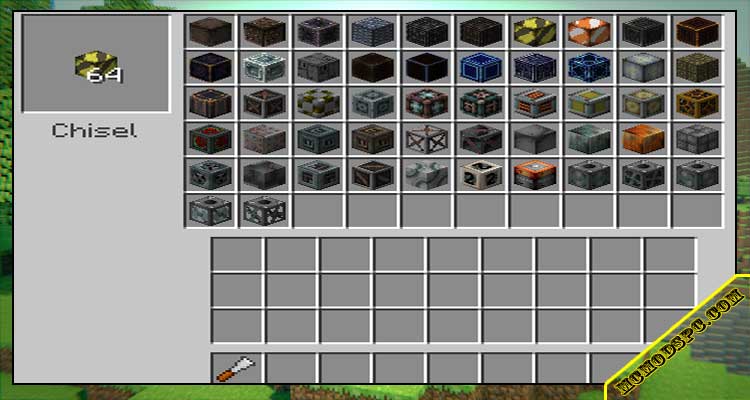 Instructions on installing [Fabric] Chisel Decor Mod
Fabric Modloader and Fabric API must be installed in advance.
On your computer, you start finding the Minecraft application folder. There are two ways to find the application, depending on the OS you are using:

For Windows PC, from the Start menu, you start "Run" then type like this: "%appdata%". Select "Run" when everything is done.
For Mac, you launch finder and press down ALT. Then, you select Go and choose Library displayed in the top menu bar. Next, you will access the Application Support folder where you will find Minecraft.

You put the downloaded [Fabric] Chisel Decor Mod into the Mods folder.
Start to open the game then select the mods button. This is when you know the [Fabric] Chisel Decor Mod is already installed.
[Fabric] Chisel Decor Mod Download Links