Towers of the Wild: Reworked (Fabric) Mod 1.18.1/1.17.1 makes the world in Minecraft more diverse with additions of tall towers. You can explore them for loot and nice views.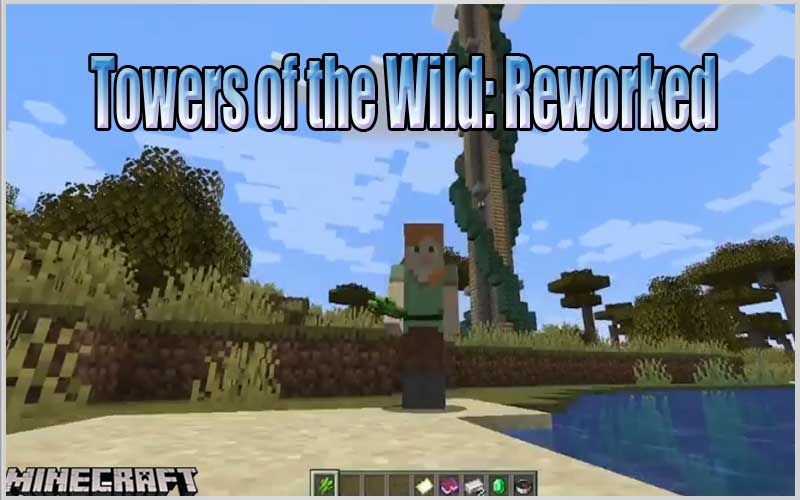 This Structures mod took inspiration from the famous Forge Mod Towers of the Wild. It provides the game with a variety of tall towers. They are based on The Legend Of Zelda: Breath Of The Wild. You can try using the mod to make your explorations more amazing.
When you get to the top of the tower, you can see a chest that has some loot. Besides, there is a nice view for you to enjoy. If you install the Waystones (Fabric Edition) and Fabric Waystones mod, you can see a waystone appearing on top of each tower.
You can use the mod with lots of World Gen or Structures mods.
Features of the mod:
Lots of Towers that randomly spawn in the world.
You can find nice loot on top of each Tower.
There are various Tower types such as derelict, derelictgrass, ice, jungle, ocean, oceanwarm, and regular.
Each tower is equipped with advancements.
Here is how you configure the mod:
There is a file called .minecraft/config/towers_of_the_wild_reworked.json. You use it to set lots of things such as:

Whether the Tower type is active.
Spacing and separation in chunks.
Whether you want Waystones to be on top of Towers.
Some debugging things.
Towers of the Wild: Reworked Mod lets you explore amazing tall Towers for some loot and great views.
Screenshots
Requirements:
Fabric Modloader
Fabric API
Cloth Config API (Fabric)
Instructions on installing Towers of the Wild: Reworked Mod
Fabric API and Fabric Modloader must be installed in advance.
On your computer, you start finding the Minecraft application folder. There are two ways to find the application, depending on the OS you are using:

For Windows PC, from the Start menu, you start "Run" then type like this: "%appdata%". Select "Run" when everything is done.
For Mac, you launch finder and press down ALT. Then, you select Go and choose Library displayed in the top menu bar. Next, you will access the Application Support folder where you will find Minecraft.

You put the downloaded Towers of the Wild: Reworked Mod into the Mods folder.
Start to open the game then select the mods button. This is when you know the Towers of the Wild: Reworked Mod is already installed.