Mystical Agriculture Mod 1.18.1/1.16.5/1.12.2 revolves around growing your resources with crops. It allows the user to develop essences useful to making materials, mob drops, equipment, and so on.
Features (1.12)
Here are the most notable elements in-mod.
Resource crops for a large number of ingredients, minerals, unique seeds
5 tiers of tools or armor
A lot of fun items
Modern versions:
Some essence recipes like Copper or Silver can deploy the cucumber-tags.json file for recipe outputs.
The file will auto-appear when loading the first world. You should reset the values as you expect.
Mystical Agriculture is a farming mod that grows everything. Download and install Cucumber Mod (1.12) with Minecraft Forge so you can run it.
Screenshots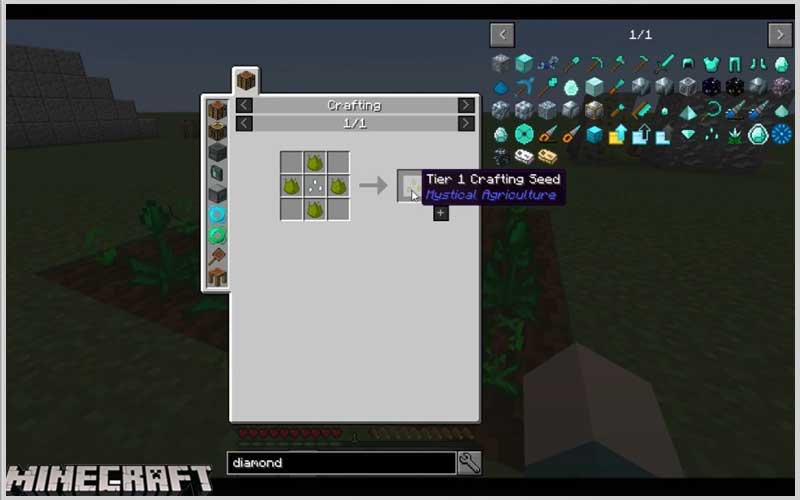 Instructions on installing Mystical Agriculture Mod
Minecraft Forge must be installed in advance.
On your computer, you start finding the Minecraft application folder. There are two ways to find the application, depending on the OS you are using:

For Windows PC, from the Start menu, you start "Run" then type like this: "%appdata%". Select "Run" when everything is done.
For Mac, you launch finder and press down ALT. Then, you select Go and choose Library displayed in the top menu bar. Next, you will access the Application Support folder where you will find Minecraft.

You put the downloaded Mystical Agriculture Mod into the Mods folder.
Start to open the game then select the mods button. This is when you know the Mystical Agriculture Mod is already installed.